The most recent injustice's done to Iranian director Jafar Panahi is weighing heavy on the hearts and minds of many. In ways....words, I am sorry to say, cannot describe. And I am reminded of a work in progress about exiled Iranian actor, producer, director Berhouz Vossoughi. As little as I know about Iranian cinema, it was really Vossoughi and Panahi who brought it to my attention. About a decade ago, Vossoughi made an appearance at the College Of Marin campus in Kentfield, California and that's when I first heard of him or Iranian New Wave, frankly Iranian cinema all together. Around the same time, I was consuming movies at a high volume while working at a video store, I caught Panahi's 'The Circle'. Or I should say it caught me, immediately with it's strong visual sense and it's uncompromising ability to unfold an unrelenting tale of injustice to women. It definitely opened a door to me of new cinematic influence.
Meanwhile, my search for Vossoughi's films continued...
After half a century in international cinema Behrouz Vossoughi should certainly be better known in general and particularly among cinephiles. In his homeland of Iran he is legendary. Perhaps to some only as a pre-Revolutionary relic. But legendary, none the less. After a brief appearance and no luck in tracking down many of his films it began to seem as though he had in fact vanished into total obscurity, but then, in the early part of the last decade during the Annual San Francisco International Film Festival, an 'Unvanquished' award was being given to Iranian auteur director Abbas Kiarostami, who in turn, to the audience surprise, presented it to Vossoughi. Vossoughi, who was in the audience was at the time at least, a resident of the San Francisco Bay Area living in exile for some years from his homeland. In fact, Vossoughi has been in exile, one way or another, seemingly his whole life.
Growing up with a religious father in 50's Iran and the oldest of five sons he had to keep his acting craft clandestine. He began to learn his craft from dubbing films. Watching scenes repeatedly and analysis of performances. By '61 he was in front of the camera. He continued to work steadily, but he was searching for something else. A revolution in Iranian cinema, a
New Wave
. And in '69 independently produced 'Ghaisar' (Caesar). Ushering in the Iranian New Wave with such director's as Masoud Kimiai and Dariush Mehrjui. Armed with new vision and the influence of French new wave and Italian neorealism, the face of film would change in Iran, forever.
The week after the festival Vossoughi was hailed as 'The DeNiro Of Iran'(I see him more as a Toshiro Mifune, Charles Bronson sort). No doubt earned from not just his brilliant acting, but the fact that he would alter his physique. Vossoughi had a self taught method that compelled him to embody the most complicated characters and would spend countless weeks developing a role. For his role in
'Sooteh Delan'
(Broken Hearts) he slept in a mental hospital during his weeks of preparation for the role. He disguised himself among drug addicts and took to the streets in prep for
'Gavaznha'
(The Deer).
Many of these films I am still yet to see, but I did manage to eventually track down and see
'Tangsir'
. The rather epic film from Iranian director Amir Naderi. With Naderi behind the camera,
Tangsir
has a strong individual and yet identifiable Iranian voice and in front of it, the indelible face of Behrouz Vossoughi. Inspired by the legendary Zar Mohammad, who waged a one-man war against four swindlers and provoked wide spread popular sentiment against tyranny,
Tangsir
is the seemingly familiar tale of a wronged man seeking revenge. The friend I saw Tangsir with at the time made many comparison's to John Boorman's
'Point Blank'
and Martin Scorsese's '
Taxi Driver'
. I too could see the parallel's he was making from a social and criminal point of view, but I saw something much deeper in
Tangsir
's seemingly straight forward revenge plot. Reminding me more of the American and Italian Westerns with it's Desolate, beautiful, and brutal landscape. Massive L E T T E R B O X E D Cinemascope. Earthy, rich color palette. But even more so, it reminded me of the Japanese westerns. There is an aspect of
Seven Samurai
and
The 47 Ronin
to
Tangsir
This wasn't simply about money and revenge. This was about honor. It still is.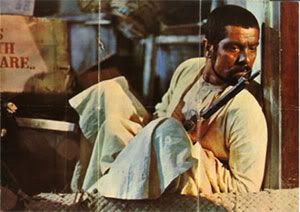 Kiarostami had the festivals attention. Vossoughi rose from the audience and Kiarostami explained to them,
"This is an award for all the years he's worked in the cinema in Iran, and all the years he's awaited work here in this country. And I look forward to his return to the cinema."
I too await a true return for Vossoughi. And now sadly, the release and return of Jafar Panahi as well.